After "I Do"
3 November, 2017 @ 6:30 pm

-

5 November, 2017 @ 12:00 pm

$30
Event Navigation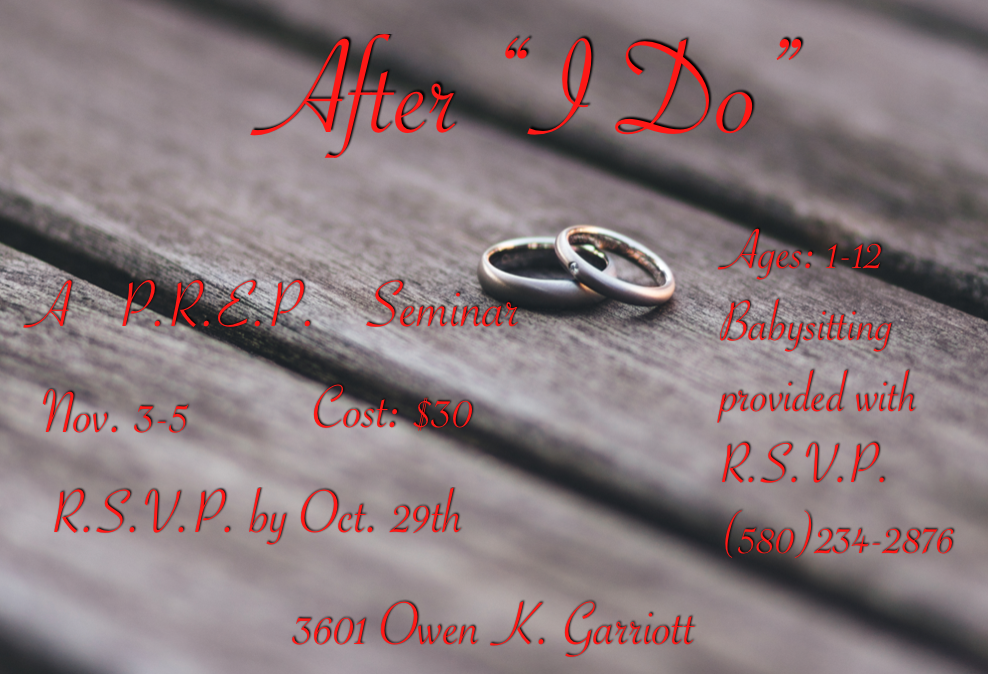 Do you ever find yourself thinking about what your relationship used to be like before you were married? He was always giving those sweet compliments and being romantic. She was always laughing at your jokes and flirting with you every chance she got. Yet when you think of your relationship now, different thoughts go through your mind.
Maybe it goes like this…
"Why can't I do anything that makes him happy?"
"All she does is nag, nag, nag."
Or maybe this sounds familiar…
"I wish he would talk to me about what is wrong instead of just walking out!"
"I wish she would talk to me instead of fighting all the time!"
Or you feel like this…
"We will NEVER work through this! The same fight over and over again!"
"I wish we actually enjoyed being around each other and had fun with each other like we used to."
If this is the way that you feel about your relationship, let us give you some hope. Your marriage is NOT doomed! Most couples have felt this way at one time or another, but there is hope! You can turn your relationship around. No, there is not a miracle cure that fixes it, but it can be fixed. All it takes is for you and your spouse to have the right tools and to use them consistently. This is where the PREP approach comes in.
The PREP approach is a scientifically-based and empirically-tested method of teaching relationship education. It is based on over 30 years of research in the field of relationship health, with much of the research conducted at the University of Denver, and sponsored by the National Institutes of Health.
If your relationship could use a little help or you just want to make it even better than it already is, come and join us for the weekend as we talk about – After "I Do."
Schedule:
Friday:
6:30p.m. – 9:00p.m.
Saturday:
8:30 a.m. – 12 p.m.
Lunch
1:00 p.m. -6:30 p.m.
Sunday
9:30 – Session 10 (Bible Class)
10:30 – Session 11 (Sermon)
Or contact the church office at the number below.
Pay Online: ($30 per couple)
Or bring $30 to the church office.